Posts for tag: oral hygiene
By Cerone
November 25, 2013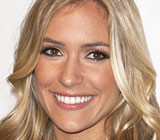 While she was pregnant with her son Camden Jack Cutler, 25-year-old Kristin Cavallari noticed an odd occurrence in her bathroom sink: "Every time I floss, my sink looks like I murdered somebody!" the actress and reality-TV personality exclaimed. Should we be concerned that something wicked is going on with the star of Laguna Beach and The Hills?
Before you call in the authorities, ask a periodontist: He or she will tell you that there's actually no mystery here. What Cavallari noticed is, in fact, a fairly common symptom of "pregnancy gingivitis," a condition that affects many expectant moms in the second to eighth month of pregnancy. But why does it occur at this time?
First — just the facts: You may already know that gingivitis is the medical name for an early stage of gum disease. Its symptoms may include bad breath, bleeding gums, and soreness, redness, or tenderness of the gum tissue. Fundamentally, gum disease is caused by the buildup of harmful bacteria, or plaque, on the teeth at the gum line — but it's important to remember that, while hundreds of types of bacteria live in the mouth, only a few are harmful. A change in the environment inside the mouth — like inadequate oral hygiene, to use one example — can cause the harmful types to flourish.
But in this case, the culprit isn't necessarily poor hygiene — instead, blame it on the natural hormonal changes that take place in expectant moms. As levels of some female hormones (estrogen and/or progesterone) rise during pregnancy, changes occur in the blood vessels in the gums, which cause them to be more susceptible to the effects of bacterial toxins. The bacteria produce toxic chemicals, which in turn bring on the symptoms of gingivitis — including painful and inflamed gums that may bleed heavily when flossed.
Is pregnancy gingivits a cause for concern? Perhaps — but the condition is generally quite treatable. If you've noticed symptoms like Kristen's, the first thing you should do it consult our office. We can advise you on a variety of treatments designed to relieve the inflammation in your gums and prevent the harmful bacteria from proliferating. Of course, your oral health (and your overall health) are prime concerns during pregnancy — so don't hesitate to seek medical help if it's needed!
How did things work out with Kristen? She maintained an effective oral hygiene routine, delivered a healthy baby — and recently appeared on the cover of Dear Doctor magazine, as the winner of the "Best Celebrity Smile" contest for 2012. And looking at her smile, it's no mystery why she won.
If you would like more information about pregnancy gingivitis, please contact us or schedule an appointment for a consultation. You can also learn more by reading the Dear Doctor magazine articles "Expectant Mothers" and "Kristen Cavallari."
By Cerone
February 03, 2013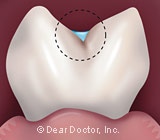 Protecting your children is one of your most important roles as a parent or caregiver. Dental sealants are one way you can protect your children's teeth from the ravages of tooth decay, drilling and fillings — and they can be applied simply, comfortably and quickly right here in our office.
What is a dental sealant?
A dental sealant is a thin, plastic film that is painted onto the tiny grooves on the chewing surfaces of the back teeth (usually the premolars and molars) to prevent caries (cavities) and tooth decay. And by allowing us to use sealants to seal these little nooks and crannies where your child's toothbrush can't reach, you will dramatically reduce their chances for developing tooth decay. This one, simple and quick office visit could save you both money and time with fewer dental visits and healthier, cavity-free teeth.
So will sealants guarantee no (or no more) cavities?
No, just like life, there are few guarantees. Your child's oral hygiene, regular dental visits, fluoride, sugar consumption and genetics are the other important factors that will determine to what degree your child experiences tooth decay. However, research shows that pit and fissure (chewing surface) decay accounts for approximately 43% of all decayed surfaces in children aged 6 to 7, even though the chewing surfaces (of the back or posterior teeth) constitute only 14% of the tooth surfaces at risk. This demonstrates the vulnerability of the chewing surfaces of the posterior teeth to decay. By placing a protective seal over the areas of teeth at risk, you can effectively and proactively protect your children's teeth.
How long do sealants last?
Research has shown that some sealants can last up to 10 years. However, if you opt for sealants for your children's teeth, we will closely monitor them with each office visit to ensure that they are still doing their job. As needed, we can apply more sealant.
By Cerone
December 11, 2012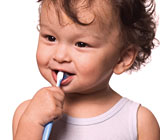 Ensuring that your children have good oral health is (or should be) the goal of every parent or caregiver. But how confident are you about this topic? The following true/false quiz will help you evaluate your expertise while learning more about keeping your child's teeth healthy.
Questions
All children older than 6 months should receive a fluoride supplement every day.
Parents should start cleaning their child's teeth as soon as the first tooth appears.
Parents should start brushing their child's teeth with toothpaste that contains fluoride at age 3.
Children younger than 6 years should use enough toothpaste with fluoride to cover the toothbrush.
Parents should brush their child's teeth twice a day until the child can handle the toothbrush alone.
Young children should always use fluoride mouthrinses after brushing.
Answers
False. Check with your child's physician or dentist about your children's specific fluoride needs. If your drinking water does not have enough fluoride to help prevent cavities, parents of a child older than 6 months should discuss the need for a fluoride supplement with a physician or our office.
True. Start cleaning as soon as the first tooth appears by wiping the tooth every day with a clean, damp cloth. Once more teeth erupt, switch to a small, soft-bristled toothbrush.
False. Parents should start using toothpaste with fluoride to brush their children's teeth at age 2. Only use toothpaste with fluoride earlier than age 2 if the child's doctor or our office recommends it.
False. Young children should use only a pea-sized amount of fluoride toothpaste. Fluoride is important for fighting cavities, but if children younger than 6 years swallow too much fluoride, their permanent teeth may develop white spots. Using no more than a pea-sized amount of toothpaste with fluoride can help prevent this from happening.
True. Because children usually do not have the skill to brush their teeth well until around age 4 or 5, parents should brush their young children's teeth thoroughly twice a day. You should continue doing this until the child can demonstrate a proper brushing technique.
False. Fluoride mouthrinses have a higher concentration of fluoride than toothpaste containing fluoride. Children younger than 6 years of age should not use fluoride mouthrinses unless your child's doctor or our office recommends it. Young children tend to swallow rather than spit it out, and swallowing too much fluoride before age 6 may cause the permanent teeth to have white spots.
Learn More
If you feel you missed too many of the above questions, read the Dear Doctor article, "Oral Hygiene Behavior."